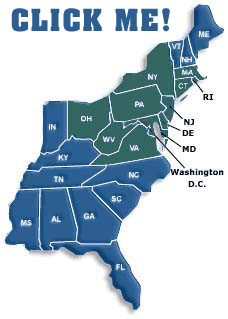 In 2002, MEC built a new, state-of-the-art facility in Chester Springs, PA—a dozen miles from where it all started. Here, we can offer secure, temperature-controlled storage facilities for our customers in an immaculately-maintained building with a computer-cataloged inventory system. We're committed to safety in every facet of our business, adhering to all OSHA guidelines and regulations.
With a combined rigging experience of well over 100 years, MEC has seen and done it all. We've pulled 40,000 pound MRIs up old Philadelphia elevator shafts with less than an inch to spare. We've pushed sensitive, one-off equipment under the streets of Baltimore. The OEMs trust MEC to rig their equipment when the going gets tight, and you can too. At MEC, we face "impossible" scenarios every day and always come out on top.
MEC transports all equipment with our personal fleet of Peterbilt trucks. Our trucks and trailers are air-ride-equipped and we take the utmost care in packaging and padding your medical equipment to ensure it arrives in factory-fresh condition. Attention to detail and personal pride in our work is how we built our reputation and you'll see it every time we deliver.
Because MEC can handle transportation to rigging to installation, we can offer our customers the convenience and efficiency of a one-stop shop. We'll develop an effective and safe rigging plan, work with your site engineers, and implement a quick, quiet delivery that keeps disruption to a minimum. Our installations are orderly and minimally invasive to keep your business running as usual.
Click here to see what our customers are saying about us.